Bonnie's Barkery Friends
Bonnie's Barkery is happy to recommend local pet care specialists and pet service providers to our clients. We also partner with several local small businesses. Here is our growing list of fabulous partners.
Rescue Partners
Dog Trainers

Hunter Canine – Chad Hunter (Owner)
Right up the street from Bonnie's Barkery. Hunter Canine is who we go to for our own training needs. Yes, we need help too! Hunter Canine can meet all your dog's training needs. Learn more about them at http://huntercanine.com/ or call 480-719-3779
Destination Dog Training– Andrew Steinkohl (Owner)
Andrew is a very talented trainer and has started up his own training service. Andrew has been partnering with Bonnie's Barkery to create in-store training programs. Give Andrew a call to find out if he can help you help your doggies. Learn more about them at https://www.destinationdogtraining.com or by calling 480-719-3779
Pet Photographer
Maren Sater Photography– Maren Sater (Owner)
If you enjoy having quality family photos on display, consider doing the same for your pet! Maren Sater is a pet photographer – which means she knows what it takes to bring out the best of your furry family member. Specializing in outdoor, natural light settings, she'll create artwork for your walls and tabletops featuring the magical bundle of joy that is your pet. Maren also does pro bono adoption photography for animal rescues. Check out her website at www.MarenSaterPhotography.com or on Facebook at Maren Sater Photography. 602.699.4430
Pet Sitters
Exceptional Customized Care – Joanne Disario (Owner)
If you would love for your doggies to stay in a home environment, Joanne's is the place for you. Rusty and Lucy love staying with Joanne. Learn more about them by calling 480-215-6789 or email at elranchorojo@peoplepc.com
Love Your Pets Too– Jimmi Pectol (Owner)
Love Your Pets Too comes to your house and offers Daily Visits, Live-In, Overnight, and have recently added Dog Boarding in their home. They take care of our two kitties when we are out of town. They are very trustworthy, love animals, and take excellent care of our kitties (of course they take care of dogs too)! Learn more about them at http://www.petandhousesitting.com or call 623-695-3079
Paws & Claws– Michelle Sabia (Owner)
Paws & Claws Pet Sitting Services is a local business that is passionate about taking the best care of your pets in the comforts of your home. It is their goal to put your mind at ease while you are away! Offering professional dog walking and pet sitting in Cave Creek, Carefree, Scottsdale & N. Phoenix, Arizona. )! Learn more about them at www.pawsandclawsaz.com or call 480-840-7297 (PAWS)
Trusted Veterinarians
Dynamite Creek Animal Hospital– Dr. Tom Hutchinson, DVM
Right around the corner at Tatum & Dynamite. Dr. Tom takes care of both Rusty and Lucy. We appreciate his conservative approach to veterinary care. Learn more about them at www.dynamitecreekvet.net or call 480-488-3002
Daisy Mountain Veterinary Hospital – Dr. Kristin Young, DVM
Dr. Young takes her time with Aubrie's pets and doesn't push her services. The practice truly understands that her dogs are her "furry children". They have taken care of Aubrie's dog even when they've had no openings and stayed after hours for them. She really cares, and it shows in how she runs her practice. Learn more about them at www.daisymountainvet.com or call 623-551-8387
Midwestern University Companion Animal Clinic – They are a veterinary teaching hospital/clinic, are state of the art, yet reasonable. Learn more about them at www.mwuanimalhealth.com or call 623-8067387 (PETS)
Angel Veterinary Services – Dr. Veena Alexis
Dr. Alexis specialized in the end-of-life process, ensuring a peaceful, loving passing. We've used Dr. Alexis a couple of times and found her very caring and compassionate. Learn more at them at https://www.angelvet.com/ or call 602-819-0655.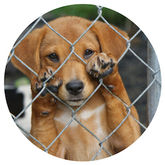 Dog Adoptions
Congratulations on your decision to adopt a dog or puppy! Not only will you be supplying a dog a loving home, but you'll also be providing a room at an animal shelter for another dog to be rescued, as well! Shelter dogs for adoption are incredible buddies who became the innocents of family catastrophe, unlucky change in circumstances, or irresponsible owners. The necessity for canine adoptions is multiplied by an excess of pet dogs bred for profit, which leads to about 4 million adoptable dogs being put down annually due to overpopulation. Let our team help you locate the perfect adoptable dog that will shower you with appreciation and devotion for the rest of his life.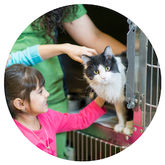 Cat Adoptions
Here in the U.S.A, 70% of animals killed in pet shelters are cats. Local animal shelters and pet rescues team with adoptable cats and kittens with so much love to give and they need a permanent family. At Bonnie's Barkery, our team is dedicated to helping resolve the homeless pet epidemic by fostering cat adoptions and education on how to get ready and care for your new feline companion.
Come visit our pet supply store in Cave Creek, AZ specializing in quality pet food and supplies. Professional grooming is available!