NEW Service!
Pet Weigh Station
Have you noticed any changes to the store in the last couple of months?  If not, come by and see some of our changes!
We are very pleased to let you know about our Pet Weigh Station!  We now have a veterinary quality floor scale for you to weigh your pets (that's Rusty checking it out in the pic).  We also have a computer set up to help track your pet's weight and calorie intake for you.
Did you know that up to 59% of dogs and cats are overweight? Unfortunately, excess weight reduces your pet's longevity and quality of life.
Stop by and check out our Weigh Station and let us help you to keep your pup as healthy as possible…  Stay tuned for more information on this important topic.
---
Want to have some FUN with your Pups? Time to belly up to the doggie bar.
We will be having a FREE Treat Tasting Bar set up for your pups to try out some of our favorite treats!
Stop by, starting Monday, January 22nd through Saturday, January 27th for this FUN Treat Tasting Event.
Here are a few of the FREE Treat Tastings your pup can try…
Tender and True Jerky –20%OFF
The Honest Kitchen Treats  –20% OFF for the week
Papa Psuka Products
Nulo Treats  –20% OFF for the week
Health Extension Treats -Buy One Get One Free
This event starts, Monday, January 22nd through Saturday, January 27th OR until we run out of treats!
Several of the Treat Makers are offering
20% OFF or more on their Treat Tasting Treats*
*Not all treats of the above treats will be included.
Stop in for a FUN time at the FREE Treat Tasting Bar at Bonnie's Barkery!
---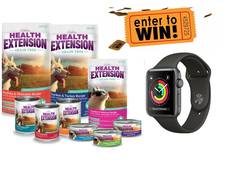 Why try Health Extension for your dogs or cats?  Here are a few reasons why we like this brand at Bonnie's Barkery…
Created in small batches.
We have more control over the way our recipes and treats are prepared. A small batch and slow cook results in a safer, more nutritious and highly digestible meal.
Picky eaters love the taste.
We've won every taste test out there! Try for yourself. We're so confident we'll offer you a 100% Satisfaction Guarantee.
Never had a product recall.
Thanks to our quality ingredient selection and food safety programs with over 140 checkpoints, we are proud to have never had a recall.
Thoughtfully selected Whole Food ingredients.
Our recipes start with USDA inspected fresh meats. We then add handpicked non-GMO fruits and veggies like carrots and blueberries that are responsibly sourced. From there we add beneficial ingredients like Coconut Oil to enhance whole body health.
Made in the USA.
Rest assured you're feeding your pet the highest quality, safest recipes on the market. What's more? We've never sourced any ingredient from China and we never will!
Click on the bags for more details!
Here's the DEAL…
$10 OFF Large Bags
$7 OFF Medium Bags
$5 OFF Small Bags
20% OFF Dog & Cat Cans
Treats- Buy One, Get One FREE!
PLUS– Buy ANY size bag of Health Extension Dog or Cat food and you will be entered in a drawing…
to WIN a brand new Apple Watch! 
What a great prize you could WIN by trying Health Extenion Dog & Cat Food.
---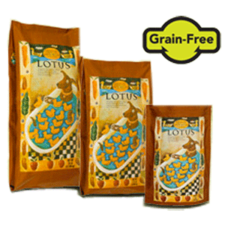 OVEN BAKED Lotus Pet Food is NOW on SALE!
Here's why it's worth trying with your cat or pup.
Oven-baked Lotus retains 100% of its vitamins. Extruded dog and cat foods typically lose an average of 40% of their vitamins. This means that all of Lotus' fresh fruits and vegetables still provide all of those wonderful antioxidants to keep your best friend's cells healthy. Lotus even retained 100% of its proteins compared to extruded foods that typically lose 20% during drying the drying process.
Feed less! A bag of Lotus lasts 20% longer. This is because a cup of Lotuswieghs only 4oz and many extruded foods weigh an average of 6oz.
Slow oven-baking takes about 3 times as long, but we think all the benefits are worth it.  Click on the bags to learn more!
And here is the DEAL…
$7 OFF Large Bags
$5 OFF Medium Bags
$3 OFF Small Bags
---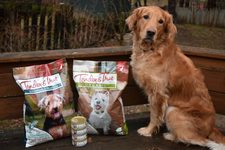 Several of our customers have been asking for foods that are Organic, Humanely Raised, and are Sustainable.  We are now carrying a Certified Organic Food for your Dogs & Cats, Tender & True! 
Tender & True is….
Certified Organic – With 95% organically sourced ingredients, we're the only pet food on the market with a full line of organic certified products.
Humanely Raised – Tender & True is a partner of the Global Animal Partnership (GAP), which ensures the welfare of the animals that go into our food.
Always Antibiotic Free – The animals that we source are always raised without the use of antibiotics, so they have more space and are treated better.
Sustainable Seafood – We only use fish that are caught by certified sustainable fisheries in our foods. Good for your pets, good for the oceans.
Grain Free – We focus on quality ingredients, and many of our premium recipes are grain free.
Farm to Bowl – From our sustainable farms to your pet's bowl, our certified, premium ingredients are all natural and organic.
Click on the Golden to learn more!
SPECIAL INTRODUCTORY PRICE
Buy One, Get ONE FREE on all dog & cat bag sizes and cans.
25% OFF Tender & True Jerky Treats