Wild, Wild Savings
from

Wild Calling

This week we are spotlighting one of our food partners, WILD CALLING.  Wild Calling foods were selected by Pet Product News Editors Choice, as Best Dog Food 2014. And our friends at Dog Food Advisor give the Rocky Mountain Medley dry food a FIVE STAR rating!  Here is the conclusion by Dog Food Advisor,
"Wild Calling! Rocky Mountain Medley is a meat-based kibble using a significant amount of various named species as its main sources of animal protein, thus earning the brand 5 stars."
"Enthusiastically recommended."
For this week (of October 4th) ONLY!
Buy One, Get One Free All Small Bags (& Kitty), limit one BOGO per visit
$7 OFF  All Medium Bags
$10 OFF All Large Bags
BUY 2 get 1 FREE on all cans
20% OFF Cases of cans
Honestly Amazing Deals
from

The Honest Kitchen
WOW, Another 5 Star Rated food from Dog Food Advisor is featured this week! Dog Food Advisor callsThe Honest Kitchen, "a superior dog food", which they "enthusiastically recommend"!

The Honest Kitchen dehydrated pet food, treats and supplements are made from whole foods that you'd recognize in your own kitchen! Every one of their healthy pet food products is made from 100% human grade ingredients and is processed in a human food processing plant right next to foods you'd find in your local healthy food store.
Many of our customers are using The Honest Kitchen Foods as a stand alone meal, in place of canned food or as a topper for the kibble meal they are feeding their pup. I personally keep a pre-made tupperware container of The Honest Kitchen in my fridge and use it every night to mix with Sandy's valley fever supplement/powder.  I just add the mixture to her raw food and she goggles it up.  There are lots of ways to incorporate this superior food into your pups diet.
$12 OFF Big Boxes
  $5 OFF Small Boxes
The Honest Kitchen has generously donated some products that are included in our Raffles for the Rescues baskets.
Pure-fect Savings on
PureVita & Nutrisource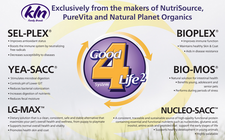 NutriSource and PureVita are definitely customer favorites.  These are Super Premium Grain Free foods, priced to be easy on the budget. Both are highly digestible for maximum nutrient absorption and each formula is nutritionally complete so more of the concentrated nutrition is retained by your dog. This means you can feed your dog less; as much as two-thirds less than other brands. Compare the NutriSource& PureVita price and you'll see this means your cost per feeding is less than the competition. And by feeding smaller, more easily digestible portions, your dog produces less waste.
Another uniques feature of PureVita and NutriSource are the novel vitamins and minerals that are added to this food.  They use the patented Good 4 Life 2system. Six supplements that can help give your pet optimum health and well being.
This week only, there will be Pure-fect Savings on ALL Bags!
BUY 1 get 1 FREE on small bags, limit one BOGO per visit
$5 OFF all Medium Bags
$7 OFF all Big Bags
Come on in and SAVE on this Pure-fectly delectable food!