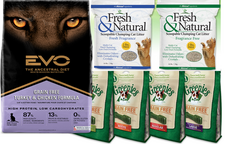 We are please to introduce THREE New Products at Bonnie's Barkey!
Two of our new products are for Kitties and one is for Pups.
For you Pups, we are now carrying Grain Free Greenies!  We have never carriedGreenies before due to the fact Bonnie's has a strict "No Wheat, No Corn, No Soy, and No Animal By Products" Policy.  TheNEW Greenies are Grain Free and do not have wheat as an ingredient as other varieties of Greenies do.  Grain Free Greenies gives you one more alternative to teeth cleaning chews.
For the kitties, we are now carrying…
EVO Cat Food.  EVO Cat Food is a Top of the Line cat food kibble.  The wild cat was designed by nature to hunt and thrive on a diet rich with the nutrition from animal proteins, not grains. Inspired by nature, EVO's authentic ancestral diet gives your cat the protein she needs to promote a lean, conditioned body. Nature designed your cat's diet. EVO perfected it. BTW, my three cats LOVE it!
87% HIGH-QUALITY ANIMAL INGREDIENTS 
such as turkey, chicken and eggs
13% FRUITS & VEGETABLES
plus vitamins, minerals and other trace nutrients
0% GRAIN, GLUTEN OR POTATO 
FRESH & NATURAL… New Kitty Litter.  If you are looking for a High Quality Kitty Litter at grocery store prices?  We are now carrying FRESH & NATURAL Scoopable Clumping Cat Litter.  Fresh & Natural cat litters are formulated with natural ingredients like dehydrating crystals and flower extracts to provide superior odor control without the addition of harsh ingredients.  Their blend of all natural sodium bentonite clay and the ultra-absorbent dehydrating mineral crystals provide maximum odor control. All you smell is your fresh, clean home! We are carrying the Fragrance Free and Fresh Fragrance formulations, both are LOW DUST, LOW TRACKING litters.
Come on in and check out these THREE great additions to Bonnie's Barkery!