Raffles for the Rescues…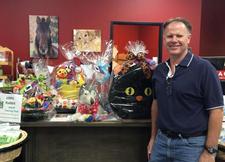 All of us at Bonnie's Barkery are committed to helping our Rescue Partners continue to do the  great work that they do.  So, during our Anniversary month we want to GIVE BACK to the  Rescues, with your help!
Similar to last year, when we celebrated our 10 Year Anniversary, we will have exciting gift  baskets to raffle and ALL of the proceeds from the raffles will go directly to our  Rescue Partners. 
Raffle tickets are only $1 and ALL of it goes to the Rescues!
This years recipients will be Foothills Animal Rescue, Boxer Luv, and Animal Guardian Network. Please help us show support to these great Rescue Organizations and BUY raffle tickets… and WIN.  Talk about a Win/Win!
Come by often, we will be adding gift baskets through out the month.  Check out our Facebook page for some of the EIGHT baskets now available!
https://www.facebook.com/BonniesBarkery/photos/pcb.10153892183128322/10153892177433322/?type=3&theater