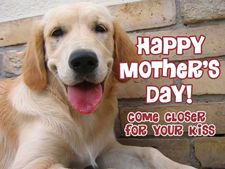 To honor Mom, we are offering some great deals! Come on out and shop. Do it for Mom!!!  She'll LOVE you for it!
---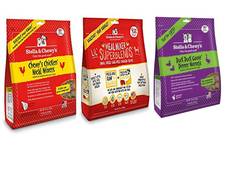 Almost all holistic integrative vets will recommend adding raw food to your dog or cat's diet.  Even if it is not possible to feed a complete raw diet, adding a topper to your pup or kitty's kibble diet will offer great benefits.
Now,  you can add a taste of Freeze Dried raw to every dog or cat's diet, at a budget price.
If you haven't tried raw, Freeze Dried is a great way to introduce it to your pet.  We have temporarily reduced the price on Stella & Chewy's Dog & Cat Freeze Dried Mixers/Morsels Small Bags
ONLY $6.99 per bag
Sprinkle a little bit of the Freeze Dried on to your pups kibble (I personally recommend adding water and stirring it up), put it down, and watch him/her gobble it up.  It's a healthy way to improve their overall diet.
Stella and Chewy's Meal Mixers Dog & Cat Food receives the Dog Food Advisor's top rating of Five Stars.  Click on the image to read the review.


---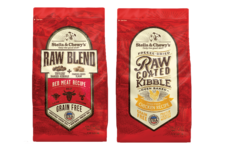 Stella & Chewy's, the brand you know and LOVE in Freeze Dried and Frozen Raw pet foods, now has a NEW Baked Kibble + Freeze Dried Raw.
The Power and Taste of Raw in every bite.
65-70% of the ingredients are meat. It's gently oven baked, retains 100% of nutritional value, calorically and nutritionally more dense (so feed less), and it's easier to digest.  Every piece of baked kibble is carefully coated with Stella & Chewy's own irresistable freeze dried raw.
Available in "Raw Coated Kibble" or "Raw Blend Kibble" which has lots of extra freeze dried mixers added directly to the bag.
Stella & Chewy's is delivering the ultimate high protein diet with the power of raw in every bite!
Give it a try…  through the end of this month,
$3 OFF   Small Bags
$5 OFF   Medium Bags
$7 OFF   Large Bags
BTW, It's Five Star Rated by Dog Food Advisor!
---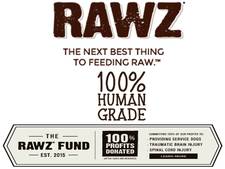 INTRODUCING… RAWZ
Freeze Dried Dog Food
!
RAWZ SPECIAL INTRODUCTORY OFFER

25% OFF ALL Freeze Dried 
My favorite thing about this company is that they donate 100% of RAWZ Natural Pet Food's profits to organizations that are dedicated to improving the lives of those living with disability – whether it be through the countless benefits of life with a service dog, finding creative ways of making athletics and recreation possible again, physical rehabilitation, emotional support and therapy for both disabled individuals and their families – any and all means of providing the quality of life we all deserve.
RAWZ Freeze Dried Nutrition Dog Food receives the Dog Food Advisor's top rating of Five Stars.
RAWZ is an avid proponent of raw food for pets. We believe feeding raw is what nature intended – unaltered, pure nutrition. However, food safety is a common concern for those who would like to feed raw. RAWZ Freeze DriedNutrition is cold-pressed, which locks in nutrients and removes harmful pathogens, all while maintaining the natural integrity of its raw ingredients.
Unlike any other freeze dried product on the market, RAWZ Freeze Dried is100% Human Grade. We only use human grade ingredients and each recipe is carefully crafted in a USDA and FDA certified human grade facility.
RAWZ Freeze Dried Nutrition is comprised of 95% meats, organs and ground bones. The chicken is cage free, the beef and lamb are grass fed and none of the animals have been treated with hormones or any added antibiotics.
Made with organic vegetables like sweet potatoes, dandelion greens, parsley, broccoli, and spinach, these probiotic-fortified recipes offer your pet the absolute best in freeze dried nutrition.
Our freeze drying process is a small-batch, gentle drying method that locks in nutrition and allows for natural, non-refrigerated shelf stability.  RAWZ Freeze Dried Nutrition is a 100% complete and balanced meal for dogs less than 70 lbs. Serve as is, rehydrate with warm water or use it as a topper on your dog's favorite kibble.
---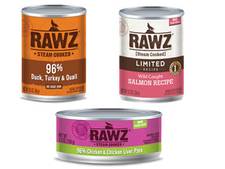 INTRODUCING…  RAWZ Dog and Cat cans
No Guar Gum, No Xantham Gum, or No Cassia Gum
Available for both dogs and cats in
96% Meat formulations
& Limited Ingredient Diets
25% OFF All Cans!
The fenugreek seeds (one of the oldest cultivated medicinal plants) in RAWZreplace the highly-processed commercial gums found in most canned foods. Conventional gums contain no nutritional value, whereas fenugreek seeds are naturally rich in many vitamins and minerals.
The emulsifying properties of the ground seeds give RAWZ Steam Cooked Recipes the texture pets crave, eliminating the need to use gums. In addition to their many vitamins and minerals, they contain polysaccharides, whichlower bad cholesterol, and also contain an amino acid that lowers glucose absorption, making them a recommended ingredient for overweight or diabetic pets.
Fenugreek seeds also contain many powerful phytonutrients, which aid in multiple digestive and neurological functions. Used in a variety of cuisines around the world, this slightly sweet, nutty herb packs in flavor and nutrients while providing the texture pets love.
Don't forget RAWZ Donates 100% of Profits to Charity!
---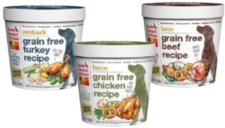 We are happy to add Honest Kitchen single serving "Cups" to our line-up of healthy eating options for your pet! Bonnie's Barkery is introducing Honest Kitchen Cups for
Just 99¢ each for a limited time
– that's over 70% off the regular price of $3.49!
Honest Kitchen Cups are good for your pet, and convenient – just add water!
100% human grade
Free of BPA and preservatives
Made with healthy whole foods
Makes 12 oz. of food – same as a can of pet food
Best-selling Embark, Force and Love formulas
Available NOW at Bonnie's Barkery
The Honest Kitchen single-serve cups dog food come in three-ounce containers meant as alternatives to conventional canned dog food. Just add water directly into the single-serve cups. The cups are available in grain-free varieties: Force chicken recipe, Embark turkey recipe and Love beef recipe.
---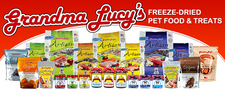 Since 1999, Grandma Lucy's has maintained a reputation for making only the best pet foods and treats and are constantly developing new products packed with leading-edge nutrition and innovative design. That is why when you choose any of Grandma Lucy's many products, you know you are making the right choice for your pet.
Key Benefits
Easy to prepare freeze-dried recipe: just add warm water, mix and serve. Ready in just 3 minutes!
With premium ingredients like USDA chicken that is hormone and antibiotic free, potato, flaxseed, apples, blueberries, and cranberries
A great option for pets prone to food sensitivities and digestive upset. Rich in natural omega fatty acids that help maintain a healthy skin and coat and healthy joints
All natural, with no grains, by-products, preservatives or GMOs
Provides complete and balanced nutrition for all life stages
ALL Grandma Lucy Dinners are $5 OFF
BTW, another Five Star Rated food by Dog Food Advisor!
---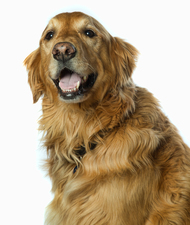 Here are a few treats now on SALE, while supplies last!
Merrick Backcountry Treats
20% OFF
Holistic Health Extension Baked Treats
20% OFF
Holistic Health Extension Dental Bones
25% OFF
NOW Spike Meat Treats
30% OFF
ZUKES Treats
20% OFF
Nutrisource Soft Treats
30% OFF 
---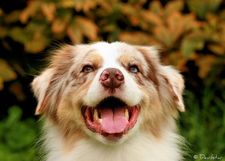 Periodontal disease affects over 85% of dogs over four years old, periodic teeth cleaning can be beneficial to your pet's oral and overall health.  Left unchecked, plaque and tartar can build on a pet's teeth and lead to serious health complications.
Numerous factors play a role in the formation of plaque, tartar, and the development of periodontal disease. These include:
Age and general health status
Diet and chewing behavior
Breed, genetics, and tooth alignment
Grooming habits
Home care
Mouth environment
With us humans, a regular trip to a dental hygienist removes this build-up in a anesthesia free environment. Whether you choose to utilize your vet or the clinics offered by the specially trained animal dental hygienists working with Dr Tim (cleanings are supervised by Dr. Tim Patterson, VMD),
it is important to keep on top of your pet's dental health.
The anesthesia free clinic is a low stress, cost effective option for your pet's teeth cleaning. The only remaining date in May & June 2017 are,
Monday, May 15th (filling up fast)
Monday, June 5th
Monday, June 19th
Please call Bonnie's to schedule your pet's teeth cleaning appointment,
480-502-7973
---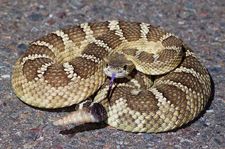 Saturday, June 3rd

Call Bonnie's Barkery to make an appointment. 
480-502-7973
This is a special service we are providing to our customers, the only cost is the Hunter Canine training fee. Normally, the cost of training is $75 per dog, but for Bonnie's Barkery customers it is only $65 on June 3rd.

NOTE!
More species of rattlesnakes live in Arizona than any other state in the country. Why risk the pain and cost of having you or your dog be a victim of a venomous bite, when your dog is the only effective means of detecting their presence in the environment?
Using your dogs naturally superior abilities to identify specific scents and sounds from a great distance, we are able to quickly teach them to distinguish the scent and sounds of rattlesnakes from all of the others in the environment.
By training your dog an avoidance behavior in response to the detection of these stimuli, he or she will become a personal alarm system to their presence, helping you to avoid a potentially dangerous situation.
Benefits of snake proofing
Quick 20 – 30 minute training session
Eliminates costly hospital and veterinary bills
More effective than vaccination
Call Bonnie's Barkery to make an appointment. 
480-502-7973
---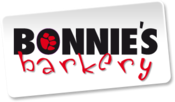 The Healthy Pet Market & Groomers!

We are working hard to provide great SERVICE and great VALUE!