Buy One, Get One FREE
ZIGNATURE Dog Food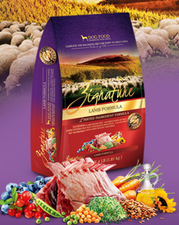 Zignature is quickly becoming one of our Go-To Limited Ingredient dog food.
Why? Because, they use no animal by-products, no chicken, no chicken fat, and no chicken eggs in their foods. Nor do they use corn, wheat, soy, or other grains. Their foods are also potato and gluten-free.
They focus on a low-glycemic diet for dogs, in fact their foods are Certified Low Glycemic, from the Glycemic Research Institute, making it an ideal food for overweight/borderline diabetic dogs.
Zignature's limited ingredient dog foods may especially appeal to many dog lovers seeking a good food for dogs with allergies or food sensitivities. The first ingredients in their foods are always meat or fish; and the second ingredients are meat or fish meals.
Now is a great time to try Zignature Dog Food.
Through the end of the month…
ALL Small Zignature Bags
Buy One Get ONE FREE!
---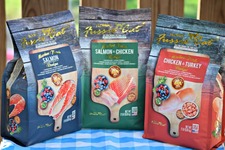 Fussie Cat Market Fresh Recipe Dry Cat Food is created with the freshest and finest ingredients for your feline family member.
Cats are notoriously fussy when it comes to their food and require a diet based on animal proteins to truly thrive. That's why Fussie Cat tailors the taste of each recipe based on actual feline feedback to ensure it's equally delicious.
This Physiologically Tuned and grain-free recipe features real meat or fish as the first ingredients to provide complete, high-quality protein and an excellent source of vitamin B12, riboflavin and phosphorus.
So if you have a FUSSY CAT, and ALL of us cat people do…
NOW, is your chance to try Fussie Cat Market Fresh Food!
ALL Small Bags (2lb) of Fussie Cat
Buy One, Get ONE FREE
Through the end of the month!