It's Nature's Variety Week!
Starting February 16th
AMAZING Deals…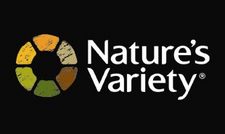 We are very happy to be able to partner with Nature's Variety.  Nature's Variety is an independent pet food company based in St. Louis, Missouri with manufacturing operations in Lincoln, Nebraska. They believe the best nutrition comes from healthy, natural ingredients. They are passionate about providing proper, holistic nutrition for your dog and cat.
Those of you that have tried Nature's Variety know this is an excellent quality premium food. Many of the Nature's Variety foods are 5 Star Rated by Pet Food Advisor.
WOW, check out these super deals you are able to get from Nature's Variety!  Yep, you are reading the sales ads below correctly!
For the Dry Food, you get the savings PLUS the coupons on the bags! You could save as much as $17 ( $10 OFF + $7 OFF Coupon) on a large bag!
AND Buy ONE get ONE FREE on Freeze Dried!
And for us Frozen Raw feeders, Buy TWO bags and get ONE FREE!
This sale will only last one week!
Please call Lauren or Mike, at (480) 502-7973 if you want to stock up, so we can make sure to get enough ordered for you!

No worries… we'll take care of you!